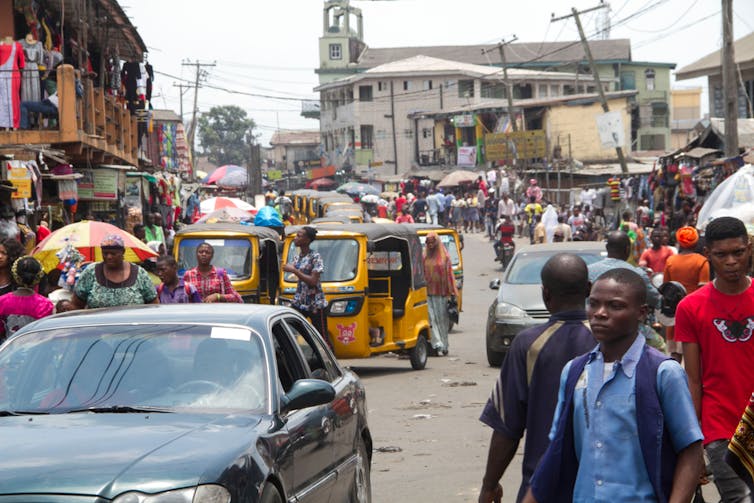 Zuhumnan Dapel, Scottish Institute for Research in Economics
Studies that reflect the movement of poverty levels at a particular point-in-time attract a lot of attention. They also inform academic and policy debates across the globe. In Africa, where poverty levels remain high, these snapshots of poverty levels are a big deal.
Grand new narratives emerge from snapshots of poverty levels. For example, the Africa Rising narrative was largely made on the back of numbers that reflected a massive wave of poverty reduction across the continent. Another is that Nigeria recorded remarkable success in its fight against poverty between 1996 and 2004. This is based on claims that the percentage of those living on less than $1.25 per day declined by 27.63% during this period. This would mean that about 27.13 million Nigerians escaped poverty.
While these snapshots can be useful, they are fundamentally insufficient and can be misleading. Our study of poverty numbers in Nigeria shows how unreliable the numbers are.
We took a different approach, one that's been gaining traction in recent years – the study of the mobility of poverty, or the movement of people in and out of poverty over time.
It provides a much richer and nuanced understanding of poverty because it challenges the conventional view of "the poor" as a homogeneous and essentially static population.
Applying this approach, our study on poverty mobility in Nigeria found that between 1980 and 2010 there are more people falling into poverty than escaping it. And based on a related study, about 72%-91% of Nigeria's poor are at risk of spending their entire life below the poverty line.
The study also reveals useful nuances that can't be realised from conventional approaches. For example, we found that chronic poverty (that is, being trapped in poverty) is less prevalent in Nigeria's oil producing region and more prevalent in the country's northeast. And we found that years of schooling has the strongest negative impact on chronic poverty – 74% of those never trapped in poverty have more than a high school level of education.
These critical nuances are important to understand if Nigeria – and other countries – are going to successfully launch an aggressive war on poverty.
Underestimating the problem
Our paper explored six sweeps of household surveys of Nigeria (1980–2010). The paper shows that a conventional measure of poverty tends to understate the actual number of people in poverty over a course of time. This is because it is unable to provide information on individual poverty experiences across time.
For instance, the study established that although the poverty rate in 2004 was 58%, around 85% of the population (made up of the trapped, the freed and those that moved into the poverty) had experienced poverty between 1996 and 2004. This means only 15% had never experienced poverty.
The majority of those who have never experienced poverty were schooled, lived in urban areas, and were found in the top 10% of the income distribution.
From this base we found that between 1980 and 1985, about 0.11% to 9.5% of the population escaped poverty, but at the same time, many more – 21.94% to 32.27% – moved into poverty. And the evidence we collected suggests that both transient and chronic poverty were higher between 1996 and 2010 than between 1980 and 1992. But transient poverty rose faster as the share of chronic poverty in total poverty declined to 55% from about 90%.
We also established that chronic poverty is less prevalent in Nigeria's oil producing region and more prevalent in the country's northeast and that 81% of those trapped in poverty were from the north.
We found that poverty increased with household size. Having more children by poor families reduces their chances of escaping poverty because bigger households make a dent on their incomes.
We also found that 81% of those trapped in poverty were farmers.
How to fix the problem
Chronic poverty is also significantly determined by factors ranging from household size, to age, level of education, location and gender. Transient poverty is less affected by these kinds of household demographics. Rather, it's linked to the ability to access safety nets such as social insurance or to be able to access funds through borrowing.
It is clear from our numbers that governments need to invest more in better schooling. This can help break the cycle of chronic poverty prevalent in Nigeria's northern region.
This calls for government to put some effort into providing safety nets that makes households less vulnerable. And that institutions are developed that can cater for low-income households in a way that enables them to protect themselves against economy-wide shocks. One example is recession.
This goes to say governments must tailor policy interventions in the way that speaks to how people actually experience poverty, whether transiently or chronically.
Nigeria recently launched an initiative in its fight against poverty that illustrates perfectly how policies are designed that don't do this. The government is running a cash transfer programme of 5,000 naira (US$13.76) per month per household.
This won't deliver relief (or barely scratches the surface) for two reasons: firstly, only less than 1% of poor people are benefiting. And secondly, the amount isn't enough to boost the welfare of the poor in an economy currently experiencing inflation.

Zuhumnan Dapel, Priors: IDRC Fellow at the Center for Global Development; Public Policy Fellow, Woodrow Wilson Center, Scottish Institute for Research in Economics
This article is republished from The Conversation under a Creative Commons license. Read the original article.